The Microphone: Is Christy Clark turning Victoria into MILF island?
Good Day Readers:
Being a tad unclear of the difference between a cougar, of which British Columbians are most familiar, and a MILF,
CyberSmokeBlog
decided to consult with that authoritative of sources the Urban Dictionary.
MILFs is an acronym for Mothers I'd Like to (deleted) married, separated or divorced who a male individual sees as physically attractive enough with whom to have sexual relations. Just because they're moms doesn't mean they don't need a spark in their sex life.

They're usually really careful about birth control knowing accidents happen but they take responsible steps while wanting to do it with reckless abandon minus any romantic complications for their under 19-families. A MILF is a woman who is sexually desirable.
Duhhhh ..... a light bulb suddenly came on! Aficionados of the1980s Canadian series
Second
City Television
and comedian John Canada will recognize a MILF as one of his "little schmingies" who love to do it all the time. Sure glad to now know the difference between a cougar and a MILF.
After Ms Clark is booted out on her arse after the May provincial election she should consider a career as a stand up comic.
Sincerely,
Clare L. Pieuk
Premier Clark "flashing" a little cleavage in the British Columbia Legislature last year
British Columbia Freelance Writer/Political Blogger Lalia Yuile "showing" a little leg
Christy Clark's Impotence Joke About Ex Falls Flat
By
Lalia Yuile
r
Monday, March 11, 2013
Someone tweeted me a link to the Comox Valley Business Gazette story last week about
B.C. Premier Christy Clark's comments
on her ex-husband Mark Marissen:
A seasoned orator, as well as a veteran of a talk radio business where controversy and titillation are king, Clark delivered what was surely the highlight of the presentation only a few minutes in.
While struggling against a microphone that wouldn't stay upright, she commented, "I'm not going to say it reminds me of my ex-husband."
The comment was met with laughs by all and the most raucous ovation of the afternoon.
I did two things. First, I nearly choked on my coffee. This woman has no filter between her mind and her mouth.
Second, I tweeted it to Clark, Marissen and Diamond Isinger, the creator of the
Madame Premier blog
, to see what they had to say about it.
Since Thursday, the story is starting to pick up a little traction. The Times Colonist mentioned it with the headline "
Is Christy Hitting Below the Belt?
" and our good friend RossK did a great post titled
... Return to Milf Island?
Now, for those who might recall the
Milfgate incident
,while many people claimed it was the
DJ's wrong
, it was my contention that
the premier had already set the standard
for innuendo and titillating talk with her
prior interviews
with The Vancouver Sun sports section and appearances on Rock 101.
But alas, this latest limp joke really fell flat in my opinion -- no pun intended.
Not just because people like Isinger run to the premier's defence with cries of sexism and political double standards for women in politics -- and yes, both are real issues facing some women in politics -- but because Christy's ex is still very much in her life, co-parents their son with her, and very much
defends her and her government on Twitter
.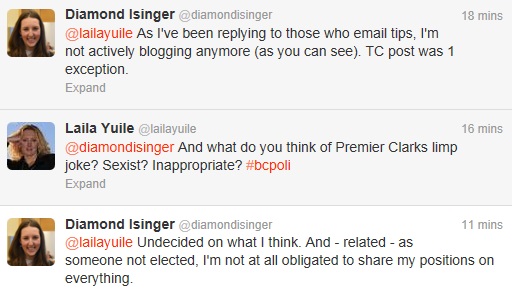 It makes me wonder, how the hell Clark can reconcile being offended at
Richard Branson's naked kitesurfing invitation
("I didn't think it was very respectful"), with her comments about her ex-husband while dealing with a microphone that wouldn't stand up?
And if you want to talk about double standards, what would happen if a male premier made a joke about his ex-wife's sexual function ... or lack thereof ?
Do you think that he might be called - gasp - sexist? More likely women everywhere would have more than a few nastier words than that, including Isinger, who would personally man the guillotine - but because it's Clark, she gets a pass?
Come on. Frankly, the hypocrisy between what Clark says and what she does is stunning, dwarfed only by her inability to understand why she is so low in the polls.
It comes down to character and integrity - unfortunately for Clark, voters seem to think she has little of either, and with limp jokes like this, it's no wonder.
(A version of this article first appeared on the No Strings Attached blog.)
Laila Yuile is an independent freelance writer and political blogger. She's a regular contributor to several online papers, has provided political commentary for radio and television in B.C. and has broken many provocative stories on her site www.lailayuile.com, that have been covered by national and provincial media. She keeps a close watch on the activities of the B.C. government, as well as China's increasing interests in Canadian resources and technology. Although she makes her home on the west coast, she deeply values the unique perspective her rural roots in northern B.C. bring to both her writing and commentary.